Cleanouts In The Arvada Area
Do you need help cleaning out your garage, attic, house, or commercial property in Arvada, Westminster, Broomfield, or the surrounding areas in Colorado? Look no further than Junk Monkeys. We offer comprehensive cleanout services to meet the needs of homeowners, real estate agents, property managers, and businesses. Whether you need to remove furniture and appliances from a home, clean out an office building or store, or tackle a hoarding or foreclosure situation, we are here to help. Our prices are affordable, and we take pride in delivering high-quality services that are prompt, efficient, and thorough. We provide free estimates and upfront pricing, so you always know what to expect. Contact us today for the peace of mind that comes with a job done right.
arrow_carrot 2right_alt icon Apartment Cleanouts
arrow_carrot 2right_alt icon Bereavement Cleanouts
arrow_carrot 2right_alt icon Commercial Cleanouts
arrow_carrot 2right_alt icon Estate Cleanouts
arrow_carrot 2right_alt icon Property Cleanouts
arrow_carrot 2right_alt icon Hoarding Cleanouts
arrow_carrot 2right_alt icon Hotel Cleanouts
arrow_carrot 2right_alt icon Foreclosure Cleanouts
arrow_carrot 2right_alt icon Basement Cleanouts
arrow_carrot 2right_alt icon Garage Cleanouts
arrow_carrot 2right_alt icon Storage Unit Cleanouts
arrow_carrot 2right_alt icon Office Cleanouts
arrow_carrot 2right_alt icon Restaurant Cleanouts
arrow_carrot 2right_alt icon Attic Cleanouts
Since we are meeting under these circumstances, we first ask that you accept our sincerest condolences. During a difficult time such as this, we know the last thing you need to have on your mind is the quality of the company you hire to do your estate cleanout. At Junk Monkeys, we value your time and will provide you with the absolute best service possible. We will do everything in our power to make this process easier for you, from having the lowest prices in town to being punctual and considerate. We treat you as a member of our own family and will make sure the job is done right – from sorting through everything to arranging the final placements, we are here to help you. You only have to ask.
Managing or owning a business means you know how limited time can be. When it's time to have unwanted items (furniture, for example) removed, you need to hire a company that won't waste your time. That's where we come in. With our reasonable prices, professionalism, efficiency, and punctuality, there's no need to look any further. Regardless of the job size, whatever you're hoping to find in a top notch cleanout team, you'll find in us.
Whether you are a property manager, real estate professional, or own properties, you may find yourself having to deal with multiple property cleanouts. Having a property sit vacant can cost you money, and the longer it sits, the more you lose. We are here to help you get that property back on the market as quickly as possible with fast service. Do you have multiple properties? Ask us about discounts for multiple property cleanouts in the future.
As fun as it may be to clean out your garage, there is probably something else you'd rather spend time doing. Though we don't want to take the joy of deciding what stays and what goes, or working in a confined space with uncomfortable temperatures away from you, we know you have other things to deal with. Not only will we happily move all of those heavy boxes for you, we'll work with you to sort them and even put them in their final destinations for you. We will do all of this quickly, professionally, and courteously, and at just about the lowest prices in town!
If you are a landlord, you may have experienced a tenant moving out and leaving behind more than a happy memory. No matter what your reasons are for needing a quick cleanout, you really can't afford to waste time with an unreliable company who might overcharge or make a bad impression on your current or future tenants. We are quick to arrive and quick to get the job done, all while maintaining a professional atmosphere. We often offer same day service, and our prices are some of the lowest in the area. Our goal is to make this the best experience you could ever have with a cleanout company. Don't hesitate to refer us to someone you think we could help out.
Have you just realized you packed far too much stuff in your storage unit? Does the thought of the energy and time it's going to take to sift through everything make you want to run for the hills? Before you lace up those running shoes, give us a call! We are here to help – whether you need help organizing, lifting, arranging, or removing.
The term property foreclosure is not synonymous with fun. As a business owner or manager, you don't have the time to waste searching for the right company to handle your cleanout. You don't want to find out too late that the company you've hired is irresponsible, late, or unprofessional. Imagine finding out the hard way that they aren't even going to show up at all! Just take a look at our reviews to see how we stack up to the competition. You'll see for yourself that we are punctual, fast, friendly, and professional.
Hoarding can be a daunting and unpleasant experience, especially for property owners. If you're facing this situation, it's important to find a reliable and experienced company to help. At Junk Monkeys, we understand how overwhelming hoarding can be, and we are here to help. Our team has the experience and commitment to tackle any hoarding scenario, from mild clutter to extreme cases. We won't leave until the job is done, and we have a track record of helping our clients quickly, professionally, and at a fair price. Our satisfied customers speak to our expertise, and we invite you to read our glowing reviews.
From one to several, big or small, we have the equipment, vehicles and manpower to handle your office cleanouts. When do you need us to start? When do you need us to finish? As fast as you need us, we'll be there for you and we'll take up as little time as possible so you can get back to business as soon as possible. We realize that a professional look is just as important as quality service in an office environment and will not let you down.
If you're looking for a restaurant clean out, you've come to the right place! No matter what you need removed, we are more than capable of removal and disposal done in the proper (legal) manner. We can handle everything from carpet to ovens and even ceiling tiles. Prefer not to disrupt your customers? We can also do our work at night if it's more convenient for you – just let us know!
If you own or manage a hotel you know hiring the right company to handle cleanouts is very important. Not only is the quality of the work of the company you hire important, but also appearance and consideration. We know the importance of a professional appearance. We also know how important it is to take care of your cleanout without disturbing your guests. We do any job, no matter the size, as quickly and quietly as possible and at a reasonable rate. We are licensed, bonded, insured and will be happy to fill out all the paperwork to become a vendor if you are part of a hotel network. It's as easy as dialing our number, whether it's during the weekend or in the evening, we are here for you. Prefer to avoid disturbing your guests? Ask us about night and weekend availability, we are waiting to accomodate you!
If the idea of getting all of that junk out of your basement is less than appealing, give us a call! Whether you just need a hand getting rid of everything, or need a little help deciding and organizing what stays or goes, we've got your back. There's no need to waste days or even hours of time, sweat, and energy when you can hire us at the lowest rates in the area. Call us to find out about same day service!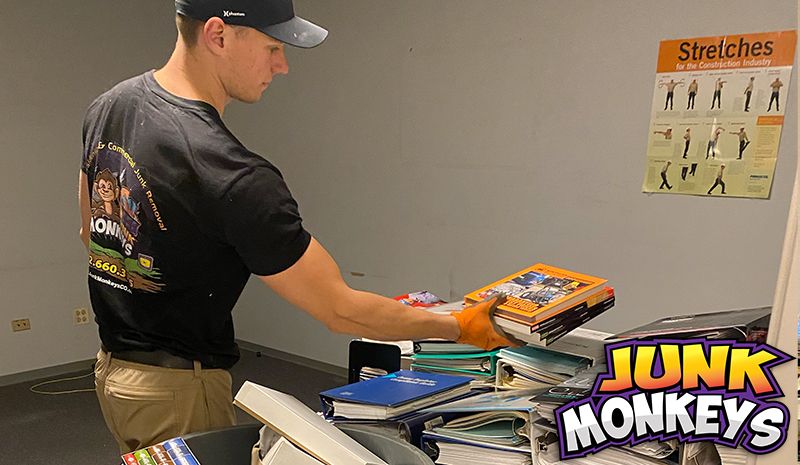 When it comes down to crunch time and nothing else fits in the attic, it might be time for a little help. That's where we come in. Moving the heavy stuff around for you is just the beginning! We will help you sort through what you've got, rearrange what you'll keep, and take away what you no longer want. The only thing you have to do is give us a call!
The

Best

Cleanout & Junk Removal Services With The Fastest Response Time In: